Board Members' Picks
Posted by Gretchen Stanton on Friday, 14 October 2022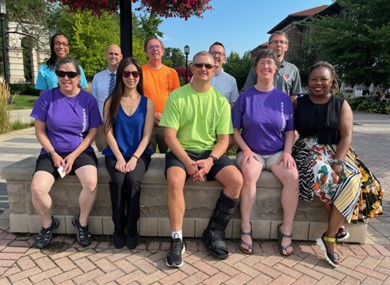 Leadership Board at BCCE 2022
Back row, from left: Gretchen Stanton, Joshua Ring, Vince Maloney, Matt Casselman, Alexey Leontyev,
Front row from left: Jennifer Muzyka, Gidget Tay, Justin Houseknecht, Cathy Welder, Leyte Winfield
Some publications, presentations, and events that caught our interest.
From Jennifer Muzyka
Book: Promoting Belonging, Growth Mindset, and Resilience to Foster Student Success
By Amy Baldwin, Bryce Bunting, Doug Daugherty, Latoya Lewis, and Tim Steenbergh
Published by National Resource Center for The First Year Experience and Students in Transition 2020, ISBN-10:  1942072376
From Justin Houseknecht
Article: Hofstra B, Kulkarni VV, Munoz-Najar Galvez S, He B, Jurafsky D, McFarland DA. The Diversity-Innovation Paradox in Science. Proc Natl Acad Sci U S A. 2020 Apr 28;117(17):9284-9291. doi: 10.1073/pnas.1915378117. Epub 2020 Apr 14. PMID: 32291335; PMCID: PMC7196824.
From Cathy Welder
Free 8-week, online course: An Introduction to Evidence-Based Undergraduate STEM Teaching
https://www.edx.org/course/an-introduction-to-evidence-based-undergraduate-stem-teaching-6
From Vince Maloney
Article: Angela J. Winstead, Pumtiwitt C. McCarthy, Daria S. Rice, and Grace W. Nyambura. Linking Chemistry to Community: Integration of Culturally Responsive Teaching into General Chemistry I Laboratory in a Remote Setting. J. Chem. Ed. 2022 99 (1), 402-408.
DOI: 10.1021/acs.jchemed.1c00494  
From Alexey Leontyev
Article: A. Kelly Lane, Clara L. Meaders, J. Kenny Shuman, MacKenzie R. Stetzer, Erin L. Vinson, Brian A. Couch, Michelle K. Smith, and Marilyne Stains. Making a First Impression: Exploring What Instructors Do and Say on the First Day of Introductory STEM Courses. CBE Life Sci. 2021, 20, 1-11.
https://doi.org/10.1187/cbe.20-05-0098